Feel at home in Terrace Midobaru's inviting, elegant space. 
We offer an array of modern facilities to ensure all our guests 
create special memories at our luxury inn. Whether it's excellent 
food or romantic views, you'll always find something to make you 
smile at Terrace Midobaru.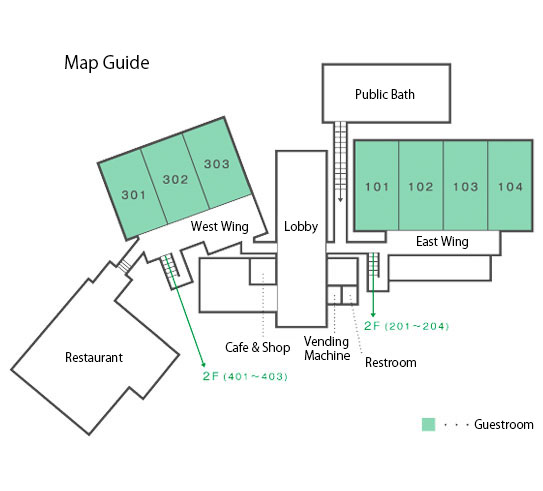 Our luxury inn has 14 modern guest rooms, each one offering panoramic views of Beppu City and the Bay. Guests will feel enveloped by Beppu's beauty, even from the comfort of a private room.
Men and women can use our large communal baths. As you soak in the healing waters, marvel at the beautiful scenery and gardens right before your eyes.
The water of our soothing baths come from a natural sulphur hot spring, known to relieve the body of fatigue, stress, and more. Feel rejuvenated as soon as you step out of the warm water.
Breakfast and dinner will be prepared at the restaurant Setsugetsu Hana, an elegant space in a separate building. Guests can choose from two-seater tables or semi-private rooms with more seats.
The lobby of Terrace Midobaru is designed to convey an atmosphere of openness and positivity. Standing at 5 metres high, a grand glass window allows guests to admire the beautiful sky above.
A range of entertainment options can be found in our library. Guests are permitted to bring any magazines and DVDs back to their private room.
Freshly ground coffee, lattes, drinks, snacks, and other essentials can be purchased at Terrace Midobaru's corner shop.