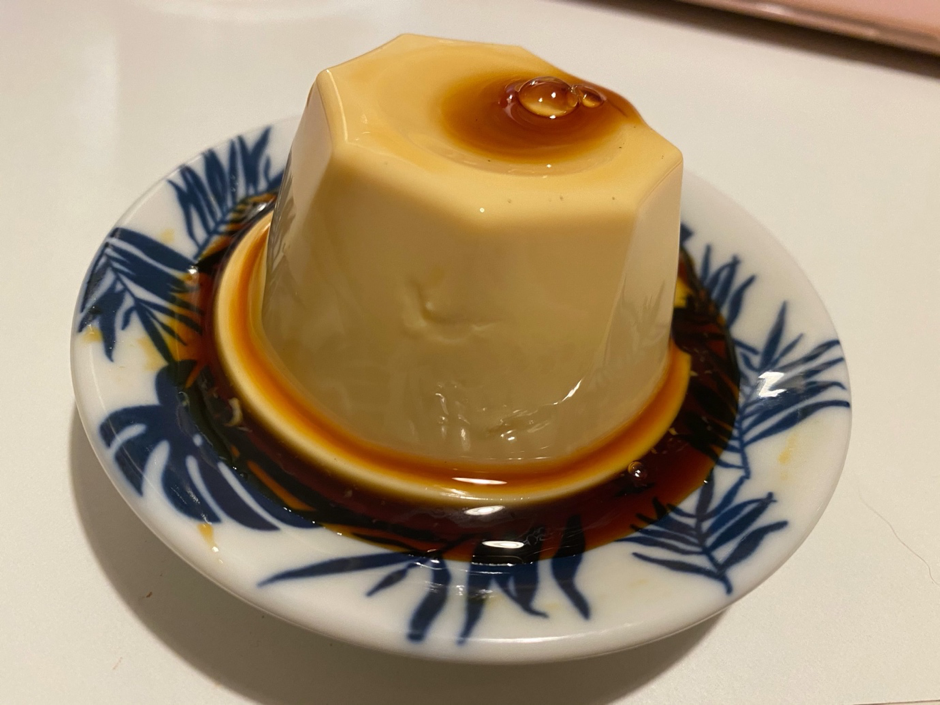 Beppu is famous for its 'hell-steamed' cuisine, cooked in the steam that rises from the area's natural hot springs. Hell-steamed pudding is prime among these steamed delicacies. And when in Beppu, you must have a taste of this scrumptious, unique pudding.
Hell-steamed pudding is said to originate in Beppu's Myoban Onsen, but today, more than thirty variations of this delightful delicacy exist across the city. If you're interested in trying jigoku-mushi pudding, read on for our best recommendations.
Yukemuri Pudding: Carefully Made in the Steam of Myoban Onsen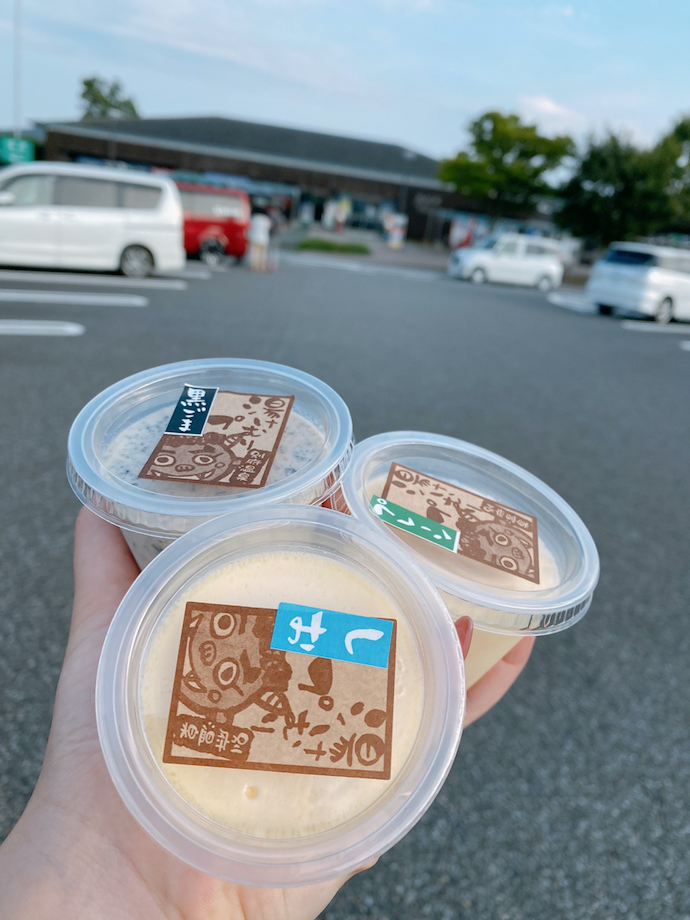 The hell-steamed pudding from Amamichaya Momotaro is the mouth-watering result of pudding carefully handmade with the steam of Myoban Onsen. You can enjoy four types of pudding: plain, salted, black sesame, and espresso. Each flavor is priced at 270 Yen. You can buy this pudding at SA shops all over Beppu Bay.
The bittersweet caramel is richly flavored but not too sweet. Its texture is moist, just as you'd expect from a pudding, and its scent carried the wonderful but faint aroma of a hot spring. Brought together by the taste and scent of vanilla beans, this pudding was extremely delicious!
At a cafe operated by Ebisu Ryokan in Myoban Onsen, visitors can delight in a parfait that uses this type of hell-steamed pudding.
Details of Amamichaya Momotaro
Address: 4 Myoban, Beppu City, Oita Prefecture
Business Hours: Monday to Wednesday and Friday, 10:00 to 18:00 (L.O. 17:30). Saturday, Sunday, and Holidays, 10:00 to 20:00 (L.O. 19:30).
Okamotoya Pudding: A Traditional Recipe that Has Withstood the Test of Time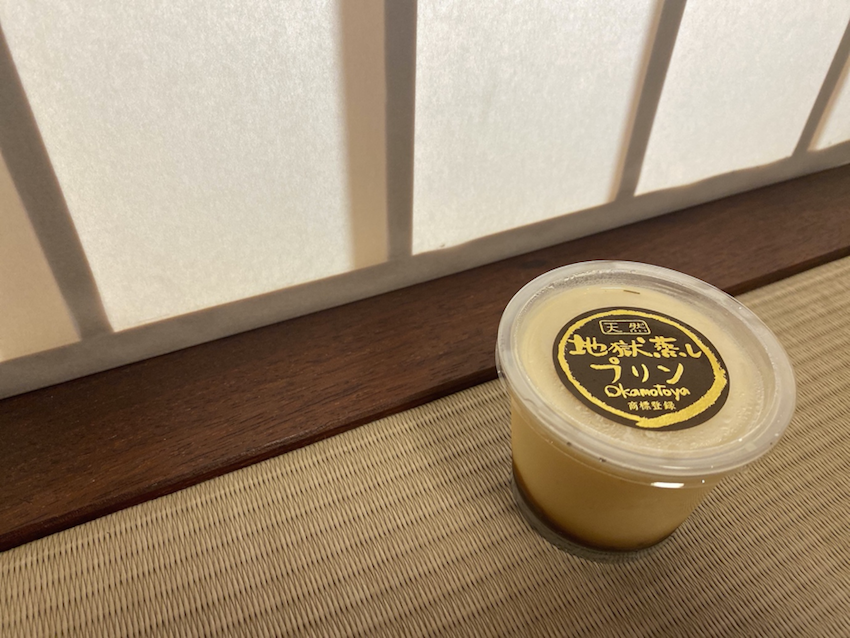 Okamotoya's hell-steamed pudding is easily the most famous type in all of Beppu. Each mound of pudding has been made by hand since 1988. With Okamotoya, visitors can experience one of Beppu's oldest, most traditional types of pudding.
At Okamotoya, visitors can also enjoy soft-serve ice cream with hell-steamed pudding and sandwiches with hell-steamed eggs, all made with the same hot spring steam. The buns made with Yunohana are another famous specialty.
At Okamotoya's main store, guests are treated to even more delights, as many kinds of udon noodles are offered. Since this store is located in the mountains, a beautiful view of steam rising over the landscape is another plus.
In addition to Okamotoya stores, you can also purchase their hell-steamed pudding at Beppu Meihingura in JR Beppu Station.
Many Other Specialty Puddings in Oita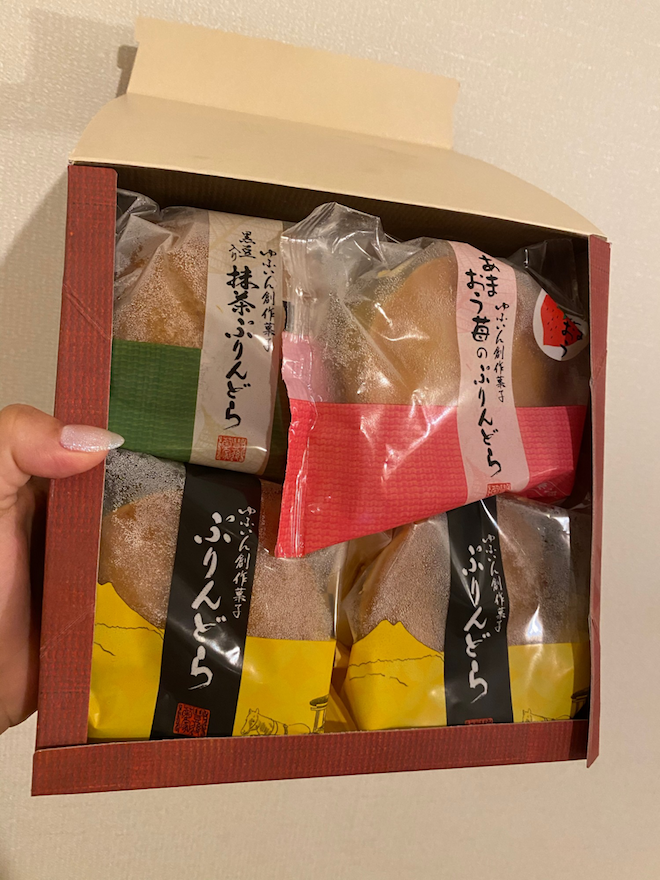 There's a wide variety of scrumptious puddings in Oita! On top of hell-steamed pudding, there are other specialty treats such as 'Purin Dora,' a sweet custard pudding sandwiched between dorayaki pancakes. This pudding comes in an original plain flavor as well as Amaou strawberry and matcha flavors.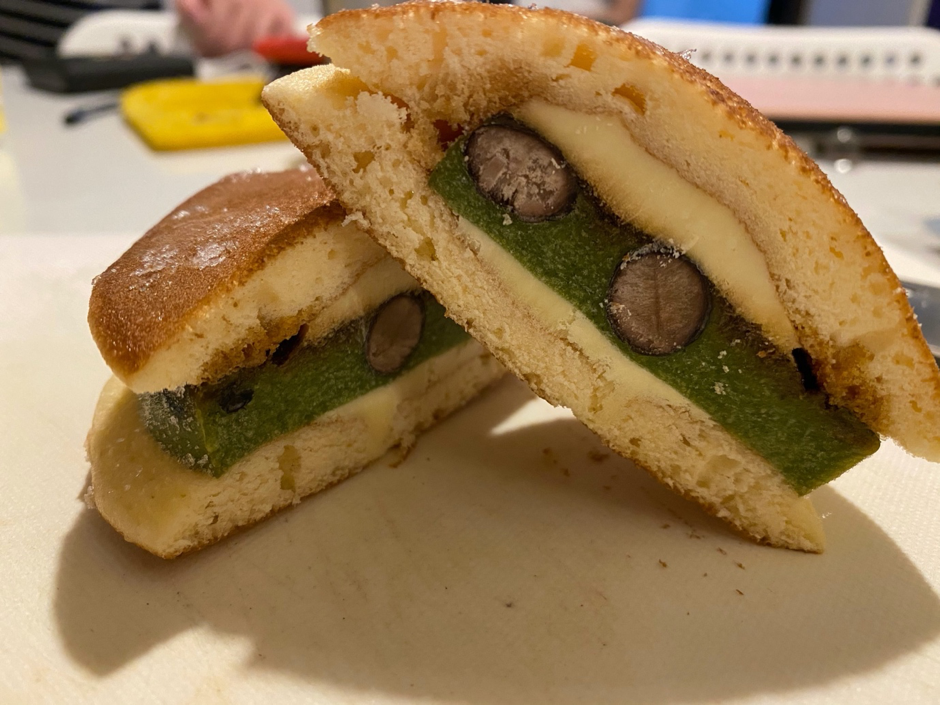 The fluffy dorayaki pancakes and custard pudding combine to create a smooth texture and delicious flavors that blend perfectly in your mouth. These sweet treats can be purchased in packs to be taken home as a souvenir.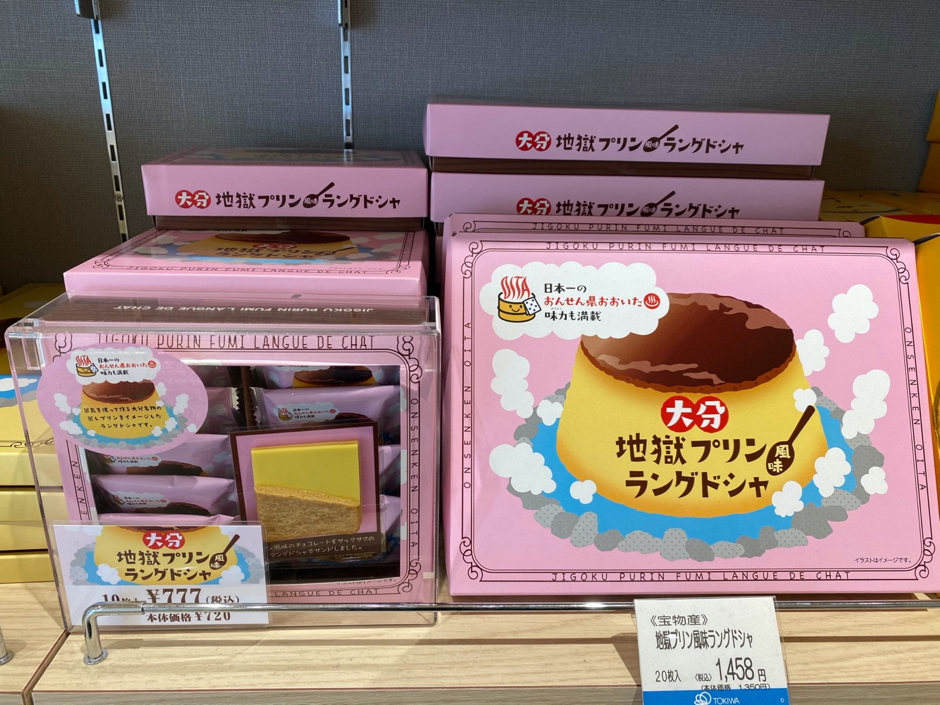 Pictures above is a box of pudding in the style of the French biscuits langues de chat. The flavor of the hell-steamed pudding is still noticeable. This is the perfect treat to accompany a hot tea.
At souvenir shops, such as those at Beppu Station, visitors will find a vast array of sweets and puddings. There's no end to the sweet delights of this hot spring town. Why not try them all and find your favorite?
Comments are closed.