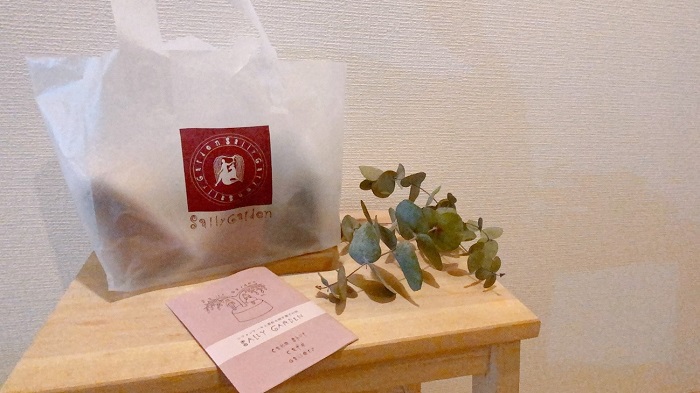 The towns of Oita and Beppu are full of stylish and unique cafes. This time, I will introduce Sally Garden, famous for its chiffon cakes and baked goods. I had a chance to try four of their chiffon cakes, all of which were made with the idea of simple yet sophisticated!
*
Sally Garden's café is located in Oita City by the Oita River, but you can also buy their popular chiffon cake at JR Beppu Station. The best place to buy chiffon cakes is at the Beppu Meihin Gura, one of the best souvenir shops in Beppu Station. I've always been curious about the Sally Garden chiffon cakes in the showcase there, so I decided to buy some. I headed there a little early because they are often sold out.
I was able to get the four types shown here: Plain, Cocoa, Banana, and Earl Grey.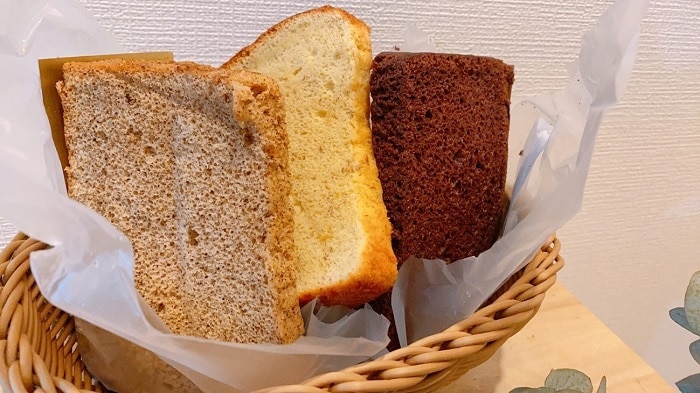 (From left to right: Earl Grey, Banana, Cocoa)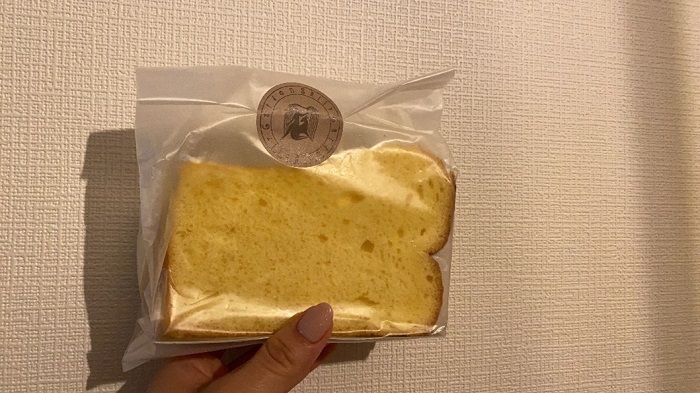 Pictured above is the standard plain one. The size of each slice is surprisingly large, so I couldn't fit them all in the container I brought with me. LOL!
*
So let's see how they compare!
We started with the plain one. As soon as you take a bite, you will enjoy the melting texture of the moist dough and the gentle flavor of eggs. The dough is delicate and fine, and the sweetness is moderate, so it's easy to finish without feeling overwhelmed.
Next, we tried the cocoa. It has a rich cocoa taste and a slightly bitter flavor that is addictive. I think it would be good with a cup of black coffee!

The third one we tried was Earl Grey. The black tea flavor with a hint of bergamot made me feel calm and relaxed. The taste is moderately sweet and elegant without being too over the top. The texture of the fluffy dough and the rich black tea flavor were both exquisite.
And finally, we tried the banana-flavored chiffon cake. From the moment you open the bag, you can smell the delicious aroma of banana. It is sweeter than the Earl Grey or plain chiffon cakes, and very satisfying to eat. The cake is made with plenty of mashed ripe bananas, giving it a luxurious moist texture.
After tasting four different kinds, my personal number one was Earl Grey!
*
Sally Garden's chiffon cakes come in a total of about ten varieties. Although only available for a limited time, there are also chiffon cakes made with the peel of Oita Prefecture's pesticide-free yuzu fruit and lemon chiffon cake made with the juice of domestic pesticide-free lemons. To be honest, it's quite rare to find a cafe with such a wide variety of chiffon cakes.
Sally Garden's chiffon cakes are a very popular Oita souvenir and are often sold out at the Beppu Station shops by the afternoon. If you hope to buy one, I recommend getting there early!
I would love to visit the Sally Garden cafe next time.
Sally Garden Store Information
Café: 1472-1 Shimomunakata, Oita City, Oita Prefecture
Open 10:00-17:00
Stores where souvenirs can be purchased
Beppu Bay SA (upper and lower lines)
JR Oita Station Oita Meihin Gura 
JR Beppu Station Beppu Meihin Gura
Beppu Kannawa Sally Garden Inn Touji Yanagiya
Comments are closed.